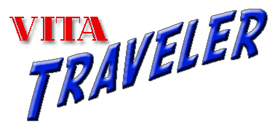 BLOG: OUR FAVORITE
ACCOMMODATIONS
AS WE TRAVEL
by Kathi Jacobs
Return to Home Page
Hotels, Guest Houses, B&B's, Homes, and Cottages that we've enjoyed and would recommend.
In no particular order...
---
ITALY:
Rome: UNA Hotel
WHY A FAVORITE? Convenience, safety, good price point, and friendly service! UNA has it all.
We like the new Italian chain, UNA Hotels & Resorts. We've stayed in the UNA Hotel Roma and found it to be welcoming, very clean, guest-friendly, and convenient to everything. The rooms are very nice and very spacious, and the marble bathroom is a delight: amazing water pressure in the shower! Virtually a one-minute walk from Termini, it's a safe, well-lit location which offers excellent value for one's travel dollar. The staff was so accommodating that they allowed us to use their Business Center to print out our boarding passes. We will gladly return to this hotel when next in Rome, and will also happily stay in other UNAs throughout Italy as the opportunity presents itself.
TIP: Reserve a room on the upper floors and you'll hear very little city noise.
---
Rome: Hotel des Artistes
WHY A FAVORITE? The breakfast buffet can be taken to the beautiful rooftop terrace.
This hotel caters to younger couples and families; well-furnished (but dark) guest rooms; eye-catching artwork; within walking distance of Termini (even with luggage!)
TIP: For extended stays, use the handy full-service laundromat across the street.
---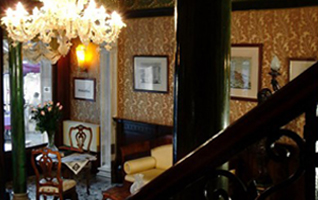 Venice: Hotel Marconi
WHY A FAVORITE? Exchanging greetings in Italian each morning with the handsome gondolier beneath our balcony.
Housed within a 16th century palazzo near the Rialto Bridge on the Grand Canal; antique furniture and Murano chandeliers grace the rooms; good breakfast buffet.
TIP: Request one of the two rooms with a balcony (now called the Rialto Dream) - you will need to book early for one of these!
---
Amalfi Coast/Sorrento: (Sorrento is the perfect base camp for the Amalfi Coast - excellent prices for food and lodging, with ready accessibility by boat to Capri, Positano, Amalfi, Ravello, Paestum, et al.)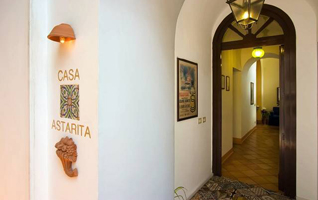 Sorrento: Casa Astarita
WHY A FAVORITE? Beautiful view of the Corso Italia and it's only a short walk from our favorite rooftop restaurant in Sorrento, "O Parrucchiano."
Small, very reasonably-priced, well-run B & B on the main pedestrian street, central location; Anna prepares a very tasty cooked-to-order breakfast in the common room.
TIP: Try to get the modern loft apartment (the Moderna) overlooking the Corso Italia; ideal for a small family.
---
FRANCE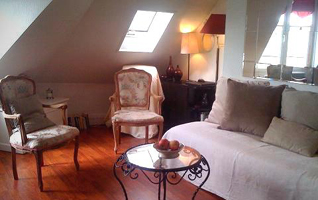 Paris: The Mona Lisa Apartment
WHY A FAVORITE? Playful, exotic decor, a fun place to stay and feel like a Parisian!
Within 5 minute walk of the Louvre and the Seine, great penthouse with separate bedroom and a cheerful, sunny kitchenette; attentive service from the owner.
TIP: Don't rent a car in Paris; the metro is directly across the street and will take you where you want to go.
---
UNITED KINGDOM: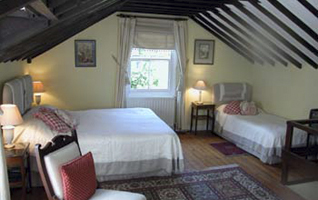 London: The Coach House
WHY A FAVORITE? We were in the midst of a long filming trip, and so appreciated having our very own English home every evening. Also, the Notts happily provided abundant information tidbits which really enhanced our London trip.
We spent a delightful 2-week stay there; enjoyed both the privacy and the interesting breakfast chats with Meena and Harley. Meena kindly provided fresh roses from her garden each morning, and even the loan of an ostrich-plumed hat for Royal Ascot!
TIP: If the Coach House is booked, ask Harley about other properties he manages in London.
---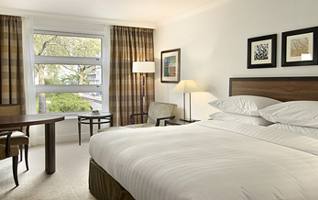 London: Hyatt Regency The Churchill
WHY A FAVORITE? I scored a 5-star hotel for $121/night by bidding!
Luxurious; a bit pricey, but can get a good deal by bidding on Priceline; beautiful setting across from the square, convenient to the Tube. Food at the hotel is expensive, so we picked up "take away" from one of many nearby restaurants.
TIP: First use the website Bidding For Travel to find out what others have paid for hotels on Priceline.com, then place your bid.
---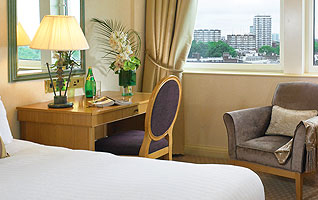 London:Lancaster Hotel
WHY A FAVORITE? Location, location, location!
Upper end 4-star property in park setting; large, gorgeous rooms; a staff keen on customer service; and an excellent breakfast buffet; extremely good value for the money.
TIP: Walk a few steps around the corner and enjoy a stroll in Hyde Park and Kensington Gardens.
---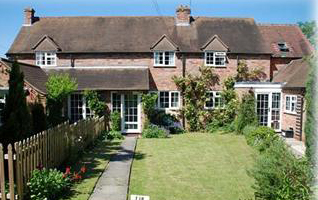 The Cotswolds, Stretton-on-Fosse: Fir Tree Cottage (VRBO listing #40054)
WHY A FAVORITE? Within 15 minute drive of Chipping Campden, but with the charm of a tiny village with a storybook feel.
Charming limestone cottage with private walled garden; comfy, cozy recliners in front of stone fireplace; 1950s feel adds to the experience of being in the Cotswolds; owner is very attuned to her guests.
TIP: Step outside in the middle of the night and you'll see the most amazing display of stars in the sky...
---
USA: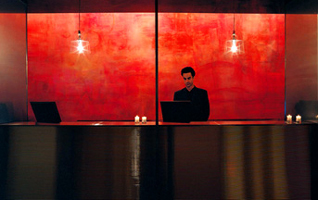 New York: W Hotel
We have several, all in the Times Square area of Manhattan.
WHY A FAVORITE? Incredible views from the floor-to-ceiling windows and the sheer fun of the place!
As they say, a Fabulous Room with a view of the city. It's very chic and trendy, with gorgeous rooms and comfy beds.
TIP: The vibe here is especially great for young business professionals.
---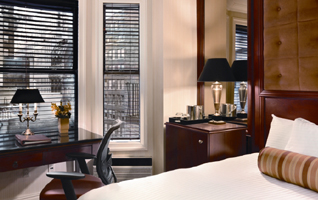 New York: The Iroquois
WHY A FAVORITE? It's just fun to be so pampered while traveling.
A lovely boutique hotel. The rooms are warmly-lit and offer upscale amenities; pleasant, customer-oriented staff.
TIP: The Red Flame Diner just down the street offers a really good breakfast - if you can get a seat!
---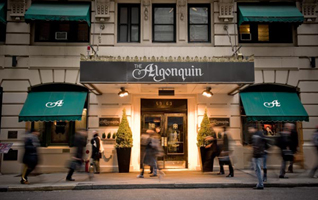 New York: The Algonquin
WHY A FAVORITE? I love the sophistication of this gem of a hotel.
Elegance of a bygone era and the oh-so-gorgeous feline ambassador, Matilda. What to say about The Oak Room and hosting a dinner party at the Round Table... a great memory.
TIP: Sink down into one of those cushy chairs in the lounge, and take time to read Dorothy Parker quotes on the wallpaper. Fun for literary types!
---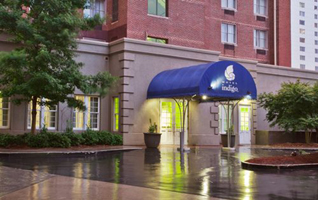 Atlanta: Hotel Indigo, Midtown
WHY A FAVORITE? The unexpected whimsy of the hotel, such as the Puppy Cocktail Party on the front terrace. Lots of fun!
Hip, architecturally unique, terrific use of color in design! Comfy rooms, great location, good value for the money.
TIP: Don't miss a show at the adjacent Egyptian-inspired Fox Theatre with its trompe l'oeil ceiling. You'll be wowed!
---
CANADA: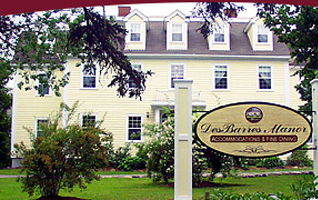 Guysborough, Nova Scotia: DesBarres Manor Inn
WHY A FAVORITE? Hands down, the best service of any lodging in Canada. When I complimented our server on the coffee, she gave me a bag to bring home to enjoy!
A luxurious oasis, and a perfect way to ease body and soul after hiking The Cabot Trail. Arriving late and straight off the trail, we were treated like royalty; one of the very best, cooked-to-order breakfasts to be had in all of Canada.
TIP: Walk the grounds before you leave, and you'll come home with a handful of decorating ideas.
---
...more coming!
Return to Home Page