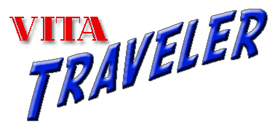 BLOG: Airplane Tips
by Kathi and Wayne Jacobs
Return to Home Page
Let's face it, flying just isn't as much fun as it once was! Everyone has seen movies from the 50's and 60's where the stewardess was so attentive to making your flight as perfect as possible. On my first plane flight in the 1960s as a college student, I remember carefully selecting just the right outfit to wear on the plane! (You see, in those days, everyone who flew "dressed up.") Today, flying on a major airline in coach boarders on being "cruel and unusual punishment." To minimize the "pain and suffering" of getting to your destination, you need to plan ahead, explore your options, be flexible, ask a lot of questions, and a little luck doesn't hurt either!
Most airlines are using a fleet of aging aircraft and those older planes are, therefore, subject to more mechanical problems. Result: today's traveler faces even more flight delays and cancellations than in the past. Nothing ruins the excitement of getting to your dream vacation more than delays and cancelled flights!
Recently, our first flight of two connecting flights was cancelled at the last minute because the plane's air conditioning system developed a problem. That caused us to be switched to a later flight which then caused us to miss our connecting flight, which caused even more headaches.
Here are some of the things we've learned from 20 years of international travel.
TIP: First off, we recommend using the Hopper App to locate the lowest fares. It worked for us! Click here to learn more about this app.
TIP: Pay very close attention to your departure and destination airport. Many cities have multiple airports so knowing the exact three letter airport code for your departure and destination airports can prevent a trip disaster.
TIP: Make sure you buy your ticket under the exact name that appears on your ID or passport.
TIP: If at all possible, book your flight with no stops or layovers. Having a direct flight to your destination will eliminate the possibility of one of your connecting flights being delayed, and subsequently missing your next flight. This is so important to the overall success of your trip that we're going to go one step further. If you can't book a direct flight, reconsider your plans: Could you depart from a larger airport that does have direct flights to your destination? Or is there another city close to your destination from which you can get a direct flight? We've done flights to Europe with three stop-overs and we've done direct flights - guess which one was more fun and less stressful?
TIP: Check with the Airline's website you are flying with to verify the allowed limit of the luggage in the flight - both carry on and checked. The allowed free luggage limit differs with airlines.
TIP: Select your seats ASAP. "If you have a disability and need a premium seat in the bulkhead, tell the agent when you make your reservation rather than at the airport," says David Martin, a Delta passenger-service specialist who creates the airline's policies for customers with disabilities. Other passengers might be able to nab those seats 24 hours before the flight, when they're made available to everyone through the airline's website.
TIP: Once you reach your gate, go to the counter and check with the representative to A: verify that your seats have not been changed and B. to ask if bulkhead or exit row seats are available on this flight. Exit row seats have more leg room than regular coach seats and bulkhead seats have much more leg room. When we've asked in the past, we've been told that airlines regularly hold back bulkhead seats for customers traveling with small children, but that if no such families show up by boarding time, they will release those seats to whomever has requested them. This has worked for us on several occasions.
TIP: A number of airlines have credit cards which automatically permit you to board immediately after First Class, in Zone 2. If shopping around for such a card, consider applying for one whose airline has a major hub near you.
TIP: To make your luggage easy to spot on the carousel, buy a suitcase in an unusual color, such as bright red.
TIP: Use Okoban luggage tags: Okoban is a system that allows individuals to register property which have been assigned unique Okoban identification codes. These tags can either be purchased separately or, a number of luggage brands have them alreay attached so that in the event that it is lost and then found it can then be returned to you. The Okoban system is integrated into WorldTracer which is the central lost and found system used by airlines. It is used by over 400 airlines, airport companies and baggage handlers. So if your bag is lost in transit and has an Okoban tracking ID then it should easily find its way back to you. If the bag is lost outside of the airline system then somebody finding it can go to the Okoban site and register that they have found the bag. You are then contacted via email or SMS and then you can contact the finder to arrange recovery.
TIP: Missed your flight, don't stand in line to rebook with a gate agent. Instead, use your cell phone to call the airline's customer-service number. You may speak to someone faster, giving you a better shot at a seat on the next flight.
TIP: Better to pick up a coffee, tea, or water bottle at the terminal—the stuff on board can be downright dirty.
TIP: Be sure to use the terminal bathroom before boarding your flight. You may not be able to use the plane's bathroom until well after your plane takes off.
TIP: Drink lots of water. Some experts recommend drinking a quart of water for every four hours you are in the air.
TIP: Use SeatGuru http://www.seatguru.com/ to get a map and description of the seats on your flight, so you won't get stuck at the back of the plane with no room to recline, or next to the heavy-traffic bathroom area.
TIP: Think seriously about bringing high-end noise cancelling headphones - the kind that fit over your ears. They really do help on a noisy plane and long flights. They can also help cancel out a crying baby.
TIP: A Kindle can store hundreds of books and will take up very little space in your luggage or backpack. And if you get tired of or finish one book, there's plenty more to read on your long flight. Also, you may want to bring crossword puzzles, Sudokus, and even audiobooks.
TIP: Take an inflatable neck collar and a good sleep mask - the kind with eye cups - they make trying to relax or sleep on a plane a bit more confortable.
TIP: Wear comfortable loose fitting clothes, shoes and socks. On really long flights, you may want to take off your shoes as soon as you are in your seat.
TIP: Bring an extra top, sweater or coat. When flying (especially long flights), always travel with an extra top as the blankets they provide are thin and the plane can get very cold.
TIP: If your flight is overbooked, don't accept the first voucher that comes your way. Airlines typically increase their offer until there are enough volunteers willing to give up their seats. If the airline bumps you involuntarily, insist on cash compensation instead of a voucher.
TIP: Lost luggage: Airlines are able to pay up to $3,400 on lost bags and their contents. In order to receive a full payout, report lost luggage as soon as possible.
TIP: If you've got a long layover, it might be worth it purchase a daily pass. One-day passes are available for Admirals Club, Sky Club, and United Club, all for $60 or less. Amenities include everything from complimentary snacks and drinks to Wi-Fi and shower suites.
TIP: Always print your boarding pass at home so you will not have to stand in any lines at the airport. And at the end of your vacation, on your last night in Europe, ask the desk clerk if the hotel has a provision for printing out your boarding pass - most do. If they do not, then ask if you can use one of the business center's printers (for free) to print out your boarding passes - many will be happy to let you do so. In addition, send your boarding pass to your iPhone and use it instead of a paper boarding pass.
TIP: As you arrive at your lodging, take a photo of the front of your new hotel so that, if you should get lost sometime in the future, it will make finding it easier.
Return to Home Page