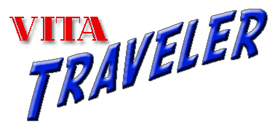 BLOG: Safety Tips
by Kathi and Wayne Jacobs
Return to Home Page
An international trip which you have planned for months can be ruined by one unfortunate incident. In our travels we've encountered people who have been the subjects of pickpockets while others have had their backpacks cut open with a razor while wearing it. They've had their passports, cameras, and money stolen. I once had a pickpocket on Rome's infamous Bus 64, "The Pickpocket Express," attempt unsuccessfully to pick my pocket. He was very surprised when I caught him.
Incidents like these can certainly spoil your well planned vacation. Fortunately, it's not too difficult to plan ahead, be prepared, and avoid most of the common pitfalls of travel. We've put together some tips that will allow you to enjoy your vacation but at the same time be safe.
TIP: Before departing, email an itinerary, copies of flight times and numbers, along with emergency contacts to both yourself and a friend or relative.
TIP: Before departing, notify your bank and credit card companies of your travel, and check exchange rates. Find out which of your credit cards charge foreign transaction fees.
TIP: Before departing, scan and email yourself a copy of your passport in case yours is lost or stolen. You may also want to photograph it with your cell phone.
TIP: Scan all your credit cards and email them to yourself in case they are lost or stolen. It will make remembering which ones to cancel easier.
TIP: Never flash a large wad of cash. Use a money belt and only keep small amounts of cash accessible in your pocket. When you need to get something out of your money belt, do it in a private place.
TIP: Carry a sacrifical billfold: Get an old billfold and fill it with fake credit cards, the "sample" credit cards you receive in the mail. Put a few dollars in it and, if confronted by a thief, hand him your billfold and chances are, he'll run off before closely examining its contents.
TIP: Don't wear white tennis shoes - they announce you are an American from blocks away.
TIP: Know the local equivalent of the 911 Emergency number.
TIP: Wear dark clothes and "dress down" when in large cities. Never "flash" expensive jewelry.
TIP: Don't stay out late. More bad stuff happens after 1 AM than at 1 PM.
TIP: Pick pockets are professionals! Your best defense is a money belt to store passports, credit cards, and large amounts of cash. Keep small amounts of cash (the amount you can afford to lose) in a pocket.
TIP: Don't be flashy! If you have expensive cameras or video equipment, put them in ratty looking backpacks or cases that no one would look twice at.
TIP: Be discreet: Don't walk around with that camera hanging from your neck or holding a guide book. Try to blend in and look like a local.
TIP: Seek advice from the right people: Ask your hotel manager or another trusted source if there are some areas of the city you should avoid.
Return to Home Page